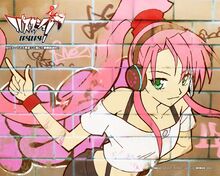 Conocida como 'Ídolo Roja', Rouge es un miembro de pelo rosa de Eclipse, un grupo musical de la luna y un equipo de baloncesto Bigfoot calle. Ella ha demostrado tener una actitud valiente, rebelde, evidente cuando ella se escapa de su jefe y de la prensa, con el tiempo la participación de Dan en su fuga por lo besa para ocultar su rostro. Esto, sin embargo, fue captado por la cámara, y comenzó el rumor de que ella estaba saliendo 'Máscara Dunk'. Más tarde, ella, junto con el resto de sus compañeros de equipo, participa en un partido contra Dan, Iceman y Sela, una de las muchas coincidencias fugitivas de viaje / del equipo Basquash. En el partido, ella recibe algunas lesiones leves, a la que no tiene en cuenta, hasta que recibe un golpe particularmente fuerte; Dan a continuación, desmontó su Bigfoot y la llevó para que pudiera recibir atención médica. Más tarde se revela a sus compañeros de equipo que ha desarrollado sentimientos por él a causa de esta acción. Durante el torneo OCB, Rouge no tomaba pastillas para mejorar su actuación cuando jugaron Dan. Durante ella y de Dan partido se desplomó y, más tarde, fue enviado de vuelta a la luna, pero no antes de escuchar los sentimientos de Dan hacia ella.
Ad blocker interference detected!
Wikia is a free-to-use site that makes money from advertising. We have a modified experience for viewers using ad blockers

Wikia is not accessible if you've made further modifications. Remove the custom ad blocker rule(s) and the page will load as expected.